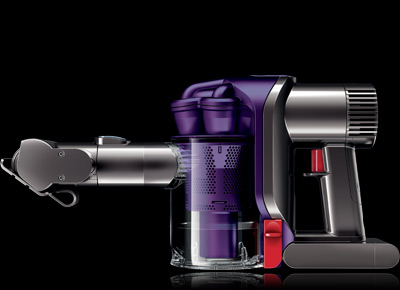 The Dyson company recently sent me a Dyson DC31 Animal vacuum to review, as part of "Clean Your Garage Day", a made-up holiday dedicated to cleaning up garages.
The DC31 is a handheld vacuum with a 22V Li-on battery. It has Dyson's signature industrial/colorful design, and comes with a motorized brush attachment. It has a high power button on the back, which increases the suction but reduces run time. The DC31 Animal has an attractive metallic purple and gunmetal color scheme, with controls clearly marked with red.
The DC31 takes about 3 hours to charge, and will run for about 10 minutes in normal mode without the motorized brush, and about 6 minutes in high output mode. Using the brush probably costs some run time, but I didn't bother to measure it.
I used the DC31 to vacuum out my very crummy car. It didn't last long enough to do the front and back halves, I was only able to vacuum the (very dirty) front floor and seats before the battery ran out. That is in part because I was using the high suction mode, and I also used the motorized brush to get some stubborn crumbs out of the seat cushions. As we always say in this business, your mileage may vary. While it lasted, it did quite a good job.
I would have liked if Dyson had a plug-in mode, to allow the machine to run off of a car's 12v power supply through the accessory plug. Perhaps a module which replaces the battery, and includes a DC step-up transformer to generate the needed 20v for the motor? There also isn't an easy way to recharge the unit in a vehicle, you would need a DC to AC transformer to do it.
The vac is not very small, but it isn't terribly heavy, and with the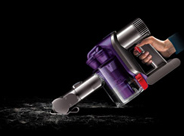 battery well balanced at the end of the pistol grip. I give the ergonomics a mixed grade, it is natural to hold and point, very much like a cordless drill, but the long overall length means that it is ungainly to maneuver in tight spaces, unlike a more traditional vacuum with a flexible hose.
The Dyson uses what they call a "digital motor", which from what I can tell is a high speed brushless DC motor, to spin the impeller and create the vacuum. It has a built in digital controller. It is smooth, with very little vibration, but it is quite loud, making a high pitched whine and whistle sounding similar to a cordless drill. I found the noise to be annoying because of its high pitch.
The other main issue I have with the Dyson DC31 is that it is expensive. Retail price is around $270, or about what you would pay for a good quality cordless drill. Dyson argues that they are offering a premium product, and I don't disagree--but not everyone is ready for a hand vac that has the Apple treatment, innovation at a high price.
Pros:
Excellent suction for the size
Nice motorized brush attachment
Easy to empty
Good ergonomics
Dyson's hallmark design
Long 2-year warranty
Cons:
No wall-mount feature
No way run off of vehicle power or recharge in vehicle.
3.5hrs of charging only gets you 10min of runtime
Trigger must be held down continuously, no way to keep it running
Can be awkward to maneuver in tight spaces
High pitched whistling sound
Expensive
In conclusion, the Dyson DC31 makes a very good car vacuum if you are quick about your cleaning, and would like to own a premium product. It makes quick work of small, dirty jobs.